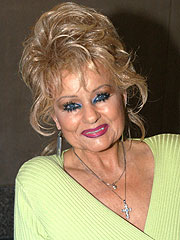 "Messner Was First Diagnosed with Colon Cancer in 1996; Illness Eventually Spread to Her Lungs
Raleigh, North Carolina (AP) -- Tammy Faye Messner, who as Tammy Faye Bakker helped her husband, Jim, build a multimillion-dollar evangelism empire and then saw it collapse in disgrace, has died. She was 65.

Messner, who had battled colon cancer since 1996 that more recently spread to her lungs, died at her home Friday, said her booking agent, Joe Spotts. A family service was held Saturday in a private cemetery, where her ashes were interred, he said.

She had frequently spoken about her medical problems, saying she hoped to be an inspiration to others. ``Don't let fear rule your life,'' she said. ``Live one day at a time, and never be afraid.'' But she told well-wishers in a note on her Web site in May that the doctors had stopped trying to treat the cancer.

In an interview with CNN's Larry King two months later, an emaciated Messner - still using her trademark makeup - said, ``I believe when I leave this earth, because I love the Lord, I'm going straight to heaven.'' Asked if she had any regrets, Messner said: ``I don't think about it, Larry, because it's a waste of good brain space.'' (Messner is shown above in her final TV appearance on July 19th, 2007.)

For many, the TV image of then-Mrs. Bakker forgiving husband Jim's infidelities, tears streaking her cheeks with mascara, became a symbol for the wages of greed and hypocrisy in 1980s America.

She divorced her husband of 30 years in 1992 while he was in prison for defrauding millions from followers of their PTL television ministries. The letters stood for ``Praise the Lord'' or ``People that Love.''

Her second husband also served time in prison. She married Roe Messner, who had been the chief builder of the Bakkers' Heritage USA Christian theme park near Fort Mill, S.C., in 1993. In 1995, he was convicted of bankruptcy fraud, and he spent about two years in prison.

Through it all, Messner kept plugging her faith and herself. She did concerts, a short-lived secular TV talk show and an inspirational videotape. In 2004, she cooperated in the making of a documentary about her struggle with cancer, called ``Tammy Faye: Death Defying.''

``I wanted to help people ... maybe show the inside (of the experience) and make it a little less frightening,'' she said.

That same year, she appeared on the WB reality show ``The Surreal Life,'' co-starring with former rapper Vanilla Ice, ex-porn star Ron Jeremy and others. She told King in 2004 that she didn't know who Jeremy was when they met and they became friends.

Messner was never charged with a crime in connection with the Bakker scandal. She said she counted the costs in other ways.

``I know what it's like to hit rock bottom,'' she said in promotional material for her 1996 video ``You Can Make It.''


I don't really remember that much about their program, but i do remember the fallout from Jim taking all that money. I didn't really care for Tammy all that much(because of all that makeup she'd wore), until I saw her on The Surreal Life in early 2004 and I've been a fan ever since. I sadden i find out her cancer has returned and this time it's inoperable, but i thought that she would get better anyway, nope she only got worse she was down to 65 pounds! and then i saw on Larry King. she could barely talk, it reminded me of my dad suffering, until he died and all his pain went away. now her all of her pain has gone away. Rest in Peace Tammy.